Baby Shower Gifts for Mums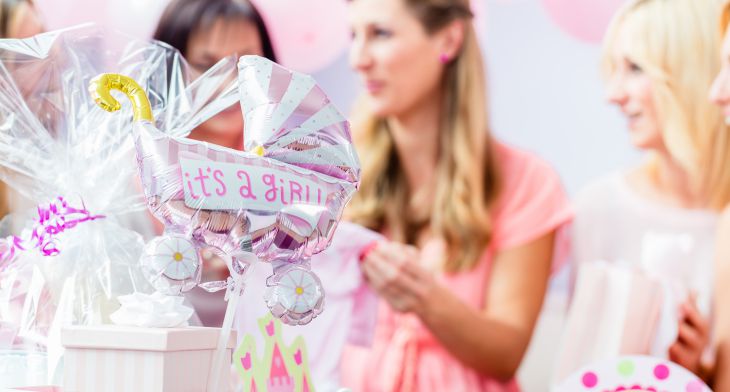 13 Baby Shower Gifts for Mums
It's time to go shopping and find the perfect baby gift for the mum to be in your life.
So much effort is always put into what present should be given to the new baby, but often friends and family forget about the mum. Growing a human is hard work, it is tiring and let's be honest pregnancy is not very glamourous. Here are thirteen baby shower gifts for mums that they will love!
Gifts for Mums To Be
Buying gifts for pregnant friends doesn't have to be difficult. There are so many simple yet extremely thoughtful presents you can buy that doesn't require you to spend a small fortune. Here you will find thirteen gifts that mums-to-be would love to receive but would never ask for.
Hire a Cleaner
If you have ever been pregnant or had a baby, you would know that in those first weeks and months you are absolutely exhausted. It's even worse if you have a baby that doesn't want to sleep at night and leaves you in a sleep deprived state. During tough times like this the last thing a new mum wants to do is clean her house, which is why hiring a cleaner for the soon to be parents would be welcomed.
Gift Hamper
You can buy a fancy premade hamper or create your own. There are endless products you could include to make the mum to be feel special and it doesn't have to be huge. Think of products like bath bombs, candles, books, wheat bags and lip gloss. These items will encourage some relaxation both before and after bub is born.
Books
If mum is a book lover than find her the latest book in her favourite genre or by her favourite author. This will give her something to enjoy when relaxing, focus on in early labour or to embrace when doing the long haul of night feeds.
Personalised Water Bottle
If the mum to be plans on breastfeeding she will need plenty of water at hand. A personalised water bottle that is easy to drink from while continuing to feed bub will make her journey that bit easier. A water bottle with a drinking straw are a great choice and there are plenty of options to purchase them personalised.
Photography Session
Pregnancy and baby bump photography is growing in popularity and for good reason. Being able to look back at photos and remember those perfect moments where your skin glowed and you could feel your baby kick and move inside you is so incredibly precious. Give your pregnant friend the gift of gorgeous maternity photos.
You may also like: Other articles by Kell
Jewellery
Forget the teething necklaces, give mum a piece of jewellery she can and will treasure forever. A locket with a picture of her unborn child's ultrasound, a signet right with the colour of the baby's birth month or even a bangle with something sweet engraved would be a prized possession.
Throw Blanket
Mum will more than likely be exhausted and will spend many hours on the couch or rocking chair trying to get bub to sleep or breastfeeding. A soft throw blanket would make her uncomfortable time on these chairs that bit more relaxing.
Subscription Box
There are so many different kinds of subscription boxes available for women that there is bound to be one that she will love. There are options for beauty boxes, tea, relaxation and so many more. It is ultimately the gift that keeps on giving.
Night Gown
Soft and sensual yet comfortable pyjamas or a night gown would be welcomed. After months of wearing maternity clothes the mum to be will be yearning to wear something beautiful, flattering and comfy. This is great for not just late stage pregnancy but also once bub is born.
Journal
A diary or journal is not just a great way to document all those feelings and emotions, it gives mum a place to share her true feelings without judgement. Motherhood can be tough in the early days and this allows her to be able to look back in months or years to come and remember every small detail.
Mum Survival Kit
Stock up on the basics that this mumma will need. Fill a mason jar with hand sanitiser, Advil, coffee sachets, hair ties, face scrub and lip balm. These essential items are often things she will overlook and will be extremely grateful you had her back.
Pamper Voucher
This gift would be great for late stage pregnancy or even once the baby has been born. Giving this tired but beautiful woman the gift to feel pampered will not go unnoticed. It doesn't matter if it is only a manicure, a massage or an express facial, it will give her that instant confidence boost.
Food
The gift of food is underrated. You know your friend will be drained and the last thing she will want to do is cook, so make up some freezable meals that the family can just throw in the microwave or oven and enjoy without the stress of fitting cooking into their days as well. You don't have to create anything fancy, meals like spaghetti bolognaise, lasagne and pies are ideal because they are easy and taste good.
It may be a baby shower but this woman is the star of the show. Let her know you have taken the time to think about her and not just the baby by giving her a gift she will never forget. These baby shower gifts for mums are guaranteed to make her smile.
What gifts would you have loved to receive for your baby shower?
Kell Kelly