Should you share pictures of your children on social media?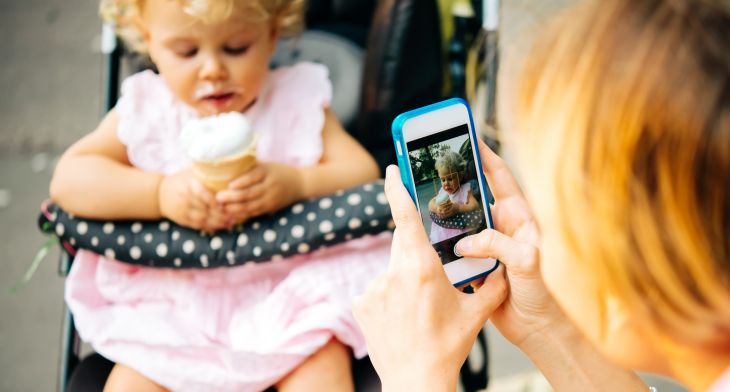 Sharing Your Kids Pictures Online
I've had a Facebook account since early 2006, shortly after it first became available in Australia. And, like many other people, I've used it to share countless photos and videos of my life. And that includes my kids. Big milestones, funny moments, pics to show how much they've grown, them getting awards or performing at different things- they are all there in over a decade's worth of proud mama posts. And I'm far from alone. I can scroll through my newsfeed at any given moment and see many friends doing the exact same thing.
In recent years, however, I've noticed a small group of parents that I know who have opted out of sharing their children's pictures on social media. Some have gone through and deleted all their pictures and others have simply never shared one.
When you decide to keep your children's images off social media, it can lead to a bit if conflict or tension with friends and family members who might not understand your stance. But, you are the parent, and it's up to you to make the choice that is right for your family.
Digital footprints
The internet is forever. Whatever we post on social media, we can potentially lose control of. There's nothing to stop people from saving your pictures, screenshotting your posts and doing whatever the heck they want with them. Will your children be happy about pictures of them on the potty being available online? When they're older, will they appreciate seeing themselves skinny dipping at the beach when they were 3? These are the questions we must ask ourselves before we share.
In some parts of the world, parents can be fined for posting about their children. It's seen as a breach of privacy. Such laws are not on the table here in Australia but it's something to be mindful of. As parents, we need to consider the potential longevity and reach of what we share online about our children. This is particularly important if you've ever been guilty of over-sharing something less than glowing about your little one.
Predators
This is another commonly cited reason to keep children's pictures off the internet. A couple of years ago, the British National Crime Agency released a report that said as many as one in 35 men are potential paedophiles. Numbers like that are enough to alarm anyone and when you consider that the average Facebook user will have around 200+ friends, it's easy to start wondering how well we know everyone on our friends list. Where are our photos ending up?
Australia's own Children's e-Safety Commissioner, Alastair MacGibbon, warned the public that millions of images found on paedophilia websites had been sourced from social media pages where they had been innocently shared by parents. It's definitely food for thought.
Could this place children at risk?
If photographs are shared publicly and include information about the child, there is a potential risk. Social media posts can unwittingly provide addresses and other information about the whereabouts of your child and their routines. Even if shared privately, we cannot eliminate all risk. How many people on your friends list are just acquaintances? How well do we know our friends? It's easy to fall down the rabbit hole into a deeply suspicious and almost paranoid state, but there are steps you can take to minimise risk.
Should you immediately delete everything you've shared online?
I don't think most of us have to go into panic mode just yet. It doesn't hurt to have a look through and remove old posts that might give away information about your child. While you're at it, remove things that you've innocently shared that, on reflection, your child might not appreciate having online. Personally, I still share pictures of my kids, but I have taken certain precautions.
You may also like: Other articles by Amy
How to reduce the risk
Lock down your all of your profiles. Social media accounts such as Facebook and Instagram are often unwittingly left completely public. Go into your privacy settings and tighten them right up. Consider switching your Instagram to 'private' altogether.
Turn off 'Location services'. This shows your Facebook friends exactly where you are when you "check in" somewhere or post from somewhere. Get rid of it and delete any past posts that have it. Do the same for other platforms like Instagram.
Go back through what you have shared already. Any pictures that might involve nudity? They need to go. Anything your child might be upset about when they see it for themselves? Delete.
Delve a little deeper. Are there pictures of your child that might identify where they attend school or extracurricular activities? Make your own risk assessment here but for me, pictures like that don't go on social media at all.
Consider restricting who sees pictures of your children to close friends and family only. On Facebook, you can do this in your settings. Alternatively, set up a private group for those close family members and friends where you can share pictures of your children.
If you feel that Facebook and Instagram aren't secure enough or you want to keep an online picture journal, consider other apps and platforms that offer more security for children's pictures, such as Tinybeans.
When they get their own accounts
Our eldest children are old enough to have social media accounts now. Tagging them in Facebook "memory" posts has been fun for all of us. Our teens have been able to see themselves growing up through what we've shared online. That aspect is pretty wonderful, actually.
Now that they have their own accounts, we've discussed with them the importance of maintaining their privacy online. Things like tight privacy settings, not sharing their locations and carefully screening friend requests.
Essentially, we have adapted our own rules and passed them on. As parents, we must consider the safety and privacy of our children when we share aspects of their lives. But once they have their own accounts, they need to become responsible for those things as well.
Amy Ahearn