Christmas Traditions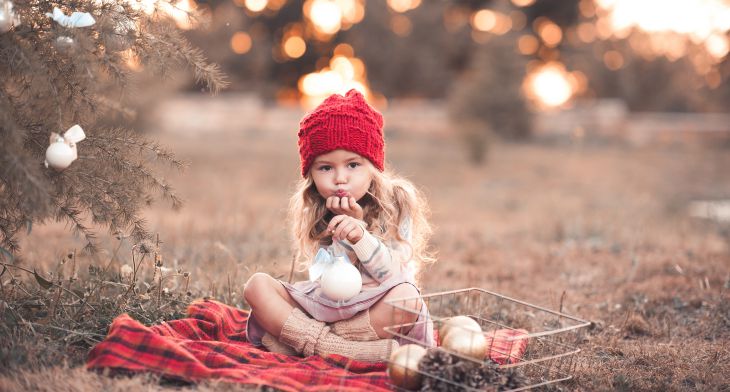 Christmas Traditions in Your Home
Since the birth of Cassie over two years ago now, Christmas traditions have been at the front of my mind. I just adore Christmas time: the music, the atmosphere, the lights, and of course, the day itself! This year Cassie is two and it is the first time she has really been old enough to understand little bits of what is going on. We were at the shops the other day and she pointed out Santa and started jumping up and down and waving to him – a big improvement on the tears from last year! So I got to exploring Christmas traditions that we could start with her and continue when Vivi was old enough to join in too. I came across so many and had to pick and choose, but here are a few of my favourites:
The Christmas Tree
We do this the first Sunday of December and it is family time. The Christmas carols are put on and everyone comes together to help. Cassie was old enough to start hanging (and breaking) ornaments this year, although her attention span was a little short. It's easiest if the big people get the lights and tinsel sorted and call in the little ones when it is time to put the baubles on
Their Own Decoration
Each year it is a lovely idea to let your little one pick out a Christmas tree decoration of their own. For the first two years, we picked them out for Cassie, but made them reflect her little life. This year, it is all up to her. I know my husband wants to steer her towards the pretty ones, but I will be letting her loose to choose whatever she likes. It makes for great conversation each year as the Christmas tree comes out.
You may also like: Other articles by Felicity
Hunter Valley Christmas Lights
This could be any Christmas lights in your area. For us, we plan one night away where we drive up to the Hunter Valley Gardens to check out their light display – it's just incredible. But plenty of streets go all out with the lights too, so do a search in your local area and see what you can find.
Elf on the Shelf
I wish I could say I was creative enough to take part in this tradition, but sadly I'm not. I do, however, enjoy seeing on Facebook what everyone else's elves are getting up to. The idea behind this one is that Santa has sent one of his helpers to your house to watch over the kids and make sure they are behaving. Throughout December the elf moves around the home and gets up to lots of sneaky little things (of your choosing). Many families go all out and the results are hilarious!
Santa Photos
We get these every year and we are hoping that this year it will just be for the kids and we can step back (fingers crossed!). We always go into the city to get ours done and meet Daddy after work so he can join us as well. It makes for a great evening out, as well as a chance to check out the lights in the city as well. We have a special photo album dedicated to these Santa photos.
Christmas Eve Box
I found out about this one from some of my other mum friends and I absolutely love it. You can put together a box for each child to open on Christmas Eve packed with: Christmas pyjamas, a Christmas DVD and some yummy food. You can then sit down as a family and enjoy the evening together getting into the festive spirit.
Family Time
Christmas can be such a busy time ferrying yourself between relatives, going to Christmas parties and so on, that it is important to make sure you get plenty of family time in there as well. We will be enjoying a few nights at home watching Christmas movies and relaxing together in amongst all the chaos of the festive season.
What are your favourite Christmas traditions? We would love to hear about them!
Felicity Frankish