Toni & Gail Sheehy, And the little one said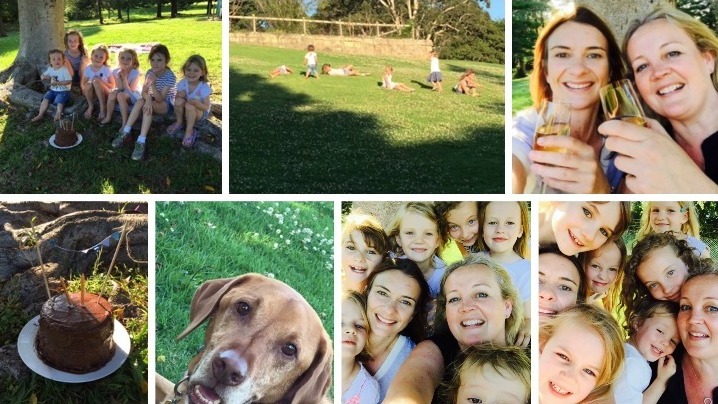 And the little one said is an online children's clothing, accessories, toys and home décor store for newborn to 8 years. We specialise in some of the smaller more boutique brands within Australia and New Zealand. Our range has been personally chosen from some of the brands and styles that we would love to dress our own children in. Our emphasis is on quality, style and all things beautiful for children.
My sister Gail and I are originally from New Zealand, although we both now happily live in Sydney's Inner West. We are busy mums with 6 children between us aged 2 – 9 years. Our background is in marketing and procurement, but we chose to leave that behind to find an outlet for our creative flair and love of good design and beautiful things. We also love to support other small businesses in Australia and New Zealand.
How did you get started in your business?
We were looking at buying into a small business with the idea that it would allow us to work from home with young children. The business we initially looked at fell through at the last minute, but we decided to go ahead and start up our own business instead of an established one. In the end we are very glad we did as we had more control on what we would stock and could develop our own brand and identity.
We did some research into what we thought was something we could differentiate ourselves with i.e. more small local Australian and New Zealand designers, and started to look into stock that we would love to put on our own kids.
What made you get into the kids industry?
We have 3 kids each so over the years we have worked out what we like and what we don't like, what works and what doesn't. We love the way well made clothing looks and last on little ones, and we love the colours, fun prints, styles and prettiness that clothing for children can be. We also know that although kids need to be kids and get mucky and messy, they can also look great without breaking the budget in quality clothing that will last to be handed down to the next in line.
What is the most challenging aspect you face running your business?
There is always something going on, and always something that needs to be done. We both have husbands that travel a lot for their jobs and we both have 2 kids each at school and one at home, so the kids alone could keep us occupied and busy for the week, so finding time to run a business can be a challenge. We also know that there is a great deal of competition in the children's clothing market, online and in retail shops so it's a challenge to find a way to stand out from the crowd.
If you could make one significant change in your business, what would it be?
It would be great if the platform we used for our website had slightly more flexibility, and we'd love to be guns at coding (for the website) and experts at SEO & social!
What's the best feedback you've ever received?
People always thank us for personal service and they love their products. We've always been happy to hand deliver if the buyer is local to save them postage.
Which community events have you recently been involved in?
We both help at our kids schools, helping organise events and fundraisers and contribute via And the little one said where we can, usually in the form of giveaways & vouchers.
What motivates you?
I love anything to do with creating something. I love beautiful things, artwork, clever people, clean lines, and anything done well.
Who inspires you the most?
Other women in business. I've been to a few talks by women who have successful small businesses, and really it's both reassuring they are just like us and also a bit intimidating that they are so clever and doing so well! They all have drive, passion, insecurities, creativity, determination, juggle family and work life and really just work damn hard! I always feel inspired when I hear these women talk and want to be more like them!
If you could have one supernatural power, what would it be?
Ummm, to multitask even more! No, seriously (because this is a serious question), I'd want to be able to fly (of course! How amazing would that be!)
What keeps you busy when you are not working on your business?
The kids! My husband works away from home a lot so I'm often it. Juggling three kids, school, childcare, activities, events, playdates, parties etc, etc is a mission without adding your home business on top of that.
What is your worst habit?
Procrastination!
What are the top three things on your bucket list?
1. Travel through Europe all over again – from top to toe.
2. Go on a holiday on my own, just so I know what it's like!
3. Do some overnight tramping through the beautiful NZ bush with my kids.
What would you attempt to do if you knew you couldn't fail?
Would love to design and produce our own line of children's clothing.
What can kids and parents expect from your product range?
We pride ourselves on quality and style so we'd hope the things they get from us they could enjoy for a long time to come.
Why should customers choose And the little one said?
Hopefully because they love what they see! We try hard to pick beautiful things that both parents and children will love, and trust that it is quality they are getting. We make customer service a priority and are happy to go out of our way to help if we can. And finally, we're both busy Mums with lots of kids and so know what works and what doesn't!
Find out more about And the little one said...