Brendan Lee, Hide and Seek Cafe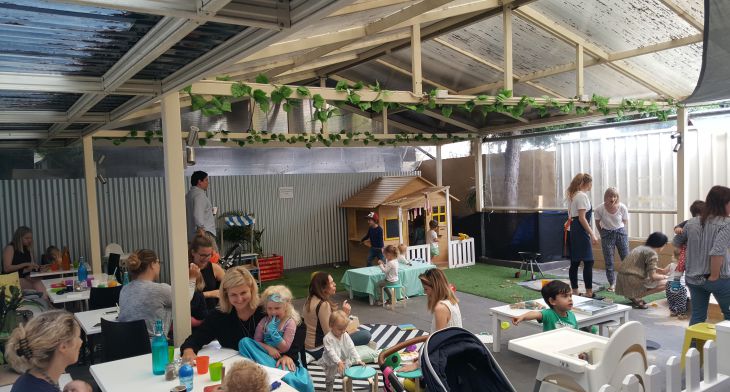 At Hide and Seek Cafe, we actually help parents to finish their cup of coffee before it gets cold! Alongside delicious food and coffee, there is a gated play area and plenty of room for mothers' groups inside. We also run various activities for parents and kids during the week and host birthday parties and functions on the weekends.
What made you decide to start Hide and Seek?
After having a child of our own, going out to cafes became a very different challenge. After searching the suburbs of Sydney for child-friendly cafes, we could never quite find what we were looking for. So, we gave up on buying our first home in Sydney and decided to open up Hide and Seek!
What is required to succeed in your business?
Hard work, sacrifice, support, communication and perseverance.
If you had the opportunity to start Hide and Seek all over again, what would you do differently?
I've made plenty of mistakes, but it's hard to say that I would have done things differently as I needed to make those mistakes in order to learn from them.
What do your customers value most?
The fact that they can actually relax and enjoy their food and have a decent conversation with their friends and loved ones and know that their kids are also having fun.
Is Hide and Seek involved in or a supporter of any local community groups?
We have been involved with and supported a number of groups including the Inner West Mums, Australian Breastfeeding Association, Inner West Multiple Birth Association and a number of local childcare centres. We understand the importance of building a strong community and see our café as a very central location to bring together all sorts of organisations.
What did you do before you started Hide & Seek?
I was a Personal Trainer and PE Teacher. I literally had no idea what we were doing on the day we opened! My 16-year-old waitresses (my ex-students) had more experience than me!
Who or what inspires you the most?
My daughter, Delilah. Despite the countless hours we have had to put into starting up this business, she continues to be the happiest kid in the world. It still amazes me that someone so little, can be so funny, kind and intelligent. She definitely takes after her mother!
Describe the time when you felt most proud.
I love the look on parents' faces the first time they walk into our café and how amazed they get. Sometimes the parents are more excited than the kids!
If you could be anyone or do anything else, who or what would that be?
I'd like to be someone on a holiday! I certainly miss those as a school teacher.
What do kids or parents enjoy most about being at Hide and Seek Cafe?
The fact that they can go out to a café and not have their parents constantly yelling at them to "sit down!" Our imaginative and discovery based play area also ensures that the kids can have hours of fun making up games. I see parents literally having to drag kids out of our café as their kids don't want to leave. We also have a number of different options on our kids menu that would keep both the children and parents happy.
What differentiates Hide and Seek Cafe from your competitors?
There are play centres that sell food that isn't of great quality. There are also cafes that have areas dedicated to kids, but it's usually just a small corner. At Hide and Seek, we have tried to take it to the next level and actually create a café for families. We have food and coffee as good as any other café and multiple areas that have been purpose built for kids and babies. Hide and Seek is a café, created by a family for families!
Find out more about Hide and Seek Cafe...