Marnie Hollis, Lyn's Label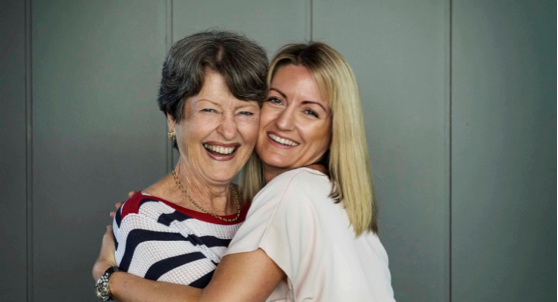 Lyn's Label is an organic baby accessories brand that is Australian-owned and family run. As a mother and daughter team we are passionate about designing and creating classic pieces that are safe and comforting for baby as well as being practical and functional for parents. Our collection includes a PURE Bamboo range, PURE Cotton Chenille range and then of course our signature Baby Bag.
How did you get started in your business?
Lyn's Label began in the early 1980s when my mother Lyn handmade a few products for her sister's newborn baby. Requests from family, friends and friends of friends quickly followed and Lyn's Label baby accessories were soon stocked in retailers around Australia and the world. I was involved in those early days, helping man Mum's monthly market stall (and getting paid in gold coins and baked potatoes for my efforts!).
Mum ran the business successfully for almost 20 years, eventually winding down when Dad's career took the family overseas.
What made you decide to start your own business?
The opportunity for me to resurrect Lyn's Label came following the birth of my daughter (now six) when I found myself looking for a career that was more flexible whilst I raised Charlotte. Mum had saved prototypes of all her original products, all of which had stood the test of time in terms of functionality and design, my friends and I used these prototypes and absolutely loved them. It made perfect sense for me to turn my focus on Lyn's Label and introduce it back into the market.
What is the best thing about running your own business and what is the worst?
There are many benefits to running your own business while balancing motherhood, "I can be a great Mother, daughter and friend, all while making a positive contribution. I am now able to spend more time with Charlotte and I love working with Mum. I have greater control over my future and am creating a wonderful legacy for Mum and Charlotte."
The most difficult thing for me is not having downtime. Between running a business and being a Mum I run 24hrs, 7days a week. I have always operated at full throttle and I'm not sure that I could operate any other way, though I am hopeful that someday I will be able slow down just a little.
What is the most challenging aspect you face running your business?
The most challenging aspect for me in this business has been working in an industry that I have no prior knowledge or experience in. I left a very successful career in Engineering to following a dream. But, I started from scratch, with very little start up money, no contacts, experience or knowledge in the industry. I have had to learn everything and it has been a journey of great discovery. I have fallen over many times and I will no doubt fall over many more but I always remember a quote from Richard Branson that says "You don't learn to walk by following rules. You learn by doing, and by falling over." So I just keep brushing myself off and following that dream.
What do your customers value most?
First and foremost our customers' value the fact the Lyn's Label products truly are safe and comforting for their babies. They are safe because we do not use dyes or chemicals nor do we blend fibres. A lot of products on the market today blend multiple fibres (natural and synthetic) because that is more cost effective. Blending dilutes the benefits and compromises the integrity of those fibres. We use only PURE Natural Organic fabrics that are created using eco-friendly processing methods.
The comforting aspect is due to our exceptionally soft fabrics. Customers are astounded when they touch our products, they cannot believe how beautiful they feel. This unique softness is as a result of us using PURE fibres that are free of dyes and chemicals. Parents are always commenting on the fact that their babies are calm and contented when they are using our products.
What community groups has Lyn's Label been involved in?
At Lyn's Label we believe in giving back to the community and try to do so as often as possible. We support both charities and local organisations by hosting charity fundraising events as well as donating proceeds of sales and products. A full list of charities and groups can be found on our website with our most recent being Kids with Cancer Foundation, the Australian Gynaecological Cancer Foundation, Staverton Kindy Fundraising and New Farm State School Fundraising.
What business awards have you won or accolades have you received?
Our most recent achievement is in the 2016 My Child Magazine Excellence Awards. We are proud to say the Lyn's Label PURE Organic Bamboo Swaddle and Bella Baby Bag were both finalists in the favourite Baby Swaddle and favourite Nappy Bag award categories. These two signature products were designed and hand-made by my mother and I.
What did you do before you started Lyn's Label?
I am a Systems Engineer by qualification and after leaving University I worked for Hewlett Packard looking after their Asia Pacific IT Infrastructure. Before restarting Lyn's Label I was running my own Management Consultancy firm in Brisbane. I had a wonderful career which gave me financial freedom and wonderful travel opportunities but the hours were not favourable to family.
What motivates you?
The opportunity to work so closely with my mother and continue what I see as a family legacy is what drives me to continue running and growing Lyn's Label. I want to make a positive difference to the world we live in and create a positive future for Charlotte.
What three words accurately describe you?
Passionate, loving and genuine.
What is the one thing on your bucket list that you must fulfil in this lifetime?
That's simple - to live in Paris and Italy.
What differentiates your products from your competitors?
There are some amazing baby products on the market; so to have a point of difference is really important. The one key point of difference for us is that we use PURE 100% Organic Bamboo Jersey Fabric in our Organic Bamboo range.
Using PURE Bamboo fabric is the safest and most comfortable fabric for babies. This is because the Bamboo fibre is naturally round and smooth so it will not irritate skin. But if mixed with another fibre, such as cotton, the resulting fabric then contains tiny sharp spurs that can cause skin irritation.
Mum and I spend a lot of time researching fabrics so that we can provide parents and their babies with the very best.
Find out more about Lyn's Label...