Sarah Hardcastle, My Family Rulers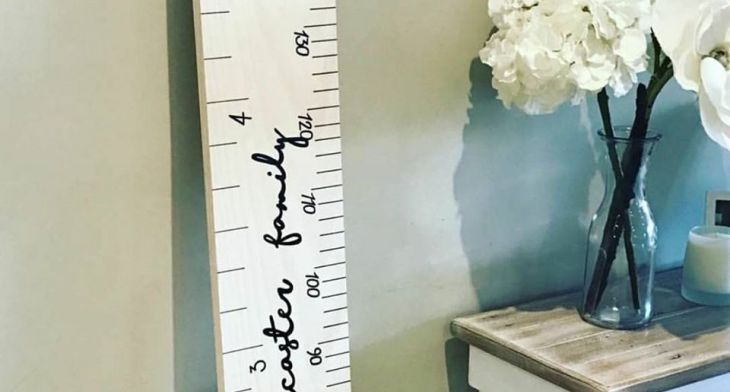 My Family Rulers is a small home based business based in Brisbane, QLD. We make handmade wooden height chart rulers to mimic the old school ones that are not so common today. Our rulers can be 100% customised to the wording, numbers, starting heights etc.
How did you get started in My Family Rulers?
I started 3 years ago this month. It started by chance, as I wanted to make a height chart for my kids as the wall where the heights were needed to be painted. I found a DIY on how to make one, and it was very basic using household pens etc. From when I began to now, I have perfected the way I do my rulers by sourcing the right wood, stains and supplies that I use.
What is the best thing about running your own business? And what is the worst?
Being my boss is the best thing; I don't have to answer to anyone (except when my hubby thinks he knows more). While I am a solo company, my hubby does help with staining and wrapping. I can get overwhelmed with orders sometimes and it can be a bit stressful, but I pull through and charge on, as it is my business I want it to succeed and keep my customers 100% happy.
What is required to succeed in your business?
Dedication. Being a mother of 3 kids, work 30-38 hours at my part time job and having a home business it can be very demanding. I get asked a lot how I do it, and I honestly amaze myself at times how I do. I guess I just have a 'have to' attitude. I can't be a can do as these are all jobs that HAVE TO be done.
What do your customers value most?
I pride myself on 100% customer satisfaction. If my customers are not happy, neither am I. I am always willing to go above and beyond for my customers, as they are the reason I have a business. Whether I get good or negative feedback I always want to know. If something is not right, they aren't happy, I am always happy to work out a solution. I do get customers say a ruler is damaged in transport, being such a large item I can only post by courier and bubble wrap, so accidents are going to happen (luckily not too many). They always feel bad when I offer to remake as it wasn't I who did the damage, but the couriers. However, regardless it's my product, I make them to last and it's not fair on them to be left with a damaged item that they have paid for. I hope it's my commitment and service that keeps my customers happy.
Which community groups are you actively involved in?
My Family Rulers is very community oriented and always willing to help local groups to succeed in fundraising by offering vouchers for rulers which they can either raffle off or auction. I fundraised for Pink Ribbon Cancer Council in which I shaved my hair and my father his beard. We hosted a High Tea for the event on the 28th May, and My Family Rulers donated 10% of all sales for May to the cause.
What did you do before you started My Family Rulers?
I've always been in hospitality and worked on and off as a barista at the Brisbane Airport since having my first daughter. For the past 3 years I have been working at Coles in the online department and love it.
What do you do to wind down?
Beer. I have to say 4pm is normally knock off time. That's the time I sit in the yard at table with a beer and my computer and do the paperwork for the day and helps me brave the witching hour ahead.
Describe a typical day at home...
Wake at 5am then head to work. On my short days I'll be home by 12pm. Then its rulers until 4pm. 4pm-5pm beer and paperwork. 5pm to 7pm, get the youngest from childcare, homework, dinner, bath, bed for kids. If I have to work the next day, it's normally to the bedroom, some forensic files, work on the computer then bed. If no work the next day, a few extra beers and catch up on all my taped shows. On my days off it's usually rulers from school drop off till 4pm.
What three words accurately describe you?
Strong-willed, determined, fun
What did your high school report card say about you?
Would have been good if she turned up for class. My bad.
What is the one thing on your bucket list that you must fulfil in this lifetime?
Really want to go to the USA to Alcatraz, Vegas, Disneyland and NY.
If you could invite any four people (living or dead) to dinner, who would they be?
David Bowie, Peter Falk, Elton John and Axel Rose. That would be one epic dinner party.
What differentiates My Family Rulers from your competitors?
Being the first business in Australia to offer hand drawn rulers has been amazing. All my rulers are done by hand. No stickers/decals can be customised to your very wish. Many others use a set stencil and only offer it one way. My way can change and no 2 rulers are ever the same. I have never copied someone else's work. I do my rulers my way and always have.
Why should customers choose My Family Rulers?
I believe in my workmanship, pricing and overall customer experience. I take pride in my work and aiming for 100% customer satisfaction is my main goal.
Find out more about My Family Rulers...