Kate Curry, The Zen Den / inchargebox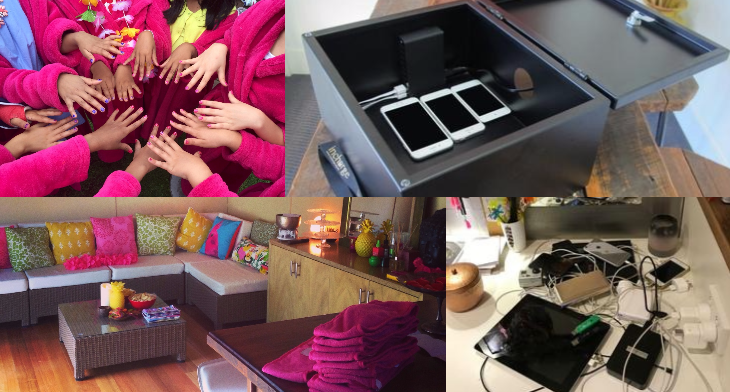 Kate Curry, a busy mum of two, runs two exciting businesses - one is The Zen Den which is a gorgeous pamper party venue for children aged 7-12, and the other is inchargebox, a fabulous lockable tech device storage unit that allows you to charge up to 10 devices at onces, and helps you manage tech time issues and clutter.
I like what I do because…
I like what I do as both business help people. The Zen Den brings fun, relaxing and happy times to children and takes the pressure off parents when it comes to kids parties! inchargebox helps parents and people get off the tech and reconnect to life. Both business contribute profits to charity as well so we get to give back in many ways.
What's the most cost-effective and best marketing strategy you've ever done?
The most cost effective and best marketing strategy would be promoting the businesses regularly on Facebook without a doubt. As our clients are mainly parents and Mums, FB is the perfect medium to get our services/products seen.
What is the most challenging aspect you face running your business?
The most challenging aspect I face running the business would be the admin side of things - I am definitely more of a creative type, so when it comes to spreadsheets and filing, I often feel uninspired - but I know it has to be done!! Popping chillout music on & getting people to help with this makes it more manageable. Luckily my inchargebox business partner Sarah is super organised and good at sorting things into order.
What's the best feedback you've ever received?
Best feedback at The Zen Den was when of our party guests said it was better than Disneyland. (I've been to Disneyland and loved it so that was a massive compliment!) We get so much positive feedback from parents who use the inchargebox, one of our Mums said it had transformed her family's life & another said she breaths a sigh of relief every time she locks the tech up at night & that her kids always seem relieved as well.
What community groups are you actively involved in?
We donate to 2 charities who are very appreciative of our contributions. One is Forget Me Not forgetmenot.org.au and the other One In Five oneinfive.com.au
The Zen Den was a major sponsor at the local school fete last year which was loads of fun, nail panting and glitter under a Balinese style thatched roof the afternoon.
The Zen Den often donates Pamper Party Gift Vouchers to many local community school events, and inchargebox has donated some boxes for auctioning at a few Kinder nights and recently at One In Five's extremely long lunch.
What gets you out of bed in the morning?
Like many mums I know, my coffee gets me out of bed in the morning! I couldn't live without my Aldi coffee machine! I love it. Once I have had that first cup, I am ready to go! Also if I have a dance class I will jump out of bed pretty quickly - I love dancing and it is my happy place.
What are you most proud of?
I am really proud of my 2 gorgeous children, they light up my world. I am also really proud of The Zen Den & inchargebox.
Who has influenced you the most?
My parents have influenced me the most - Mum is a party organiser extraordinaire full of life and enthusiasm and Dad is a level headed, kind, generous & wise man who ran companies for years and also coped amazingly living in a house of 5 lively, strong and fabulous women (Mum & my 3 sisters!) I have learnt so much from both of them about persistence, positivity, never giving up and also how to have fun!! They are an amazing team and continue to live their lives making the most of every day!
What is your worst habit?
My worst habit is that I despise housework and am very messy. That reminds me, I need to book a cleaner!!
What three words accurately describe you?
Three words - stubborn, creative & passionate
If you could invite any four people (living or dead) to dinner, who would they be?
Dinner I would like to invite Cleopatra, Shakespeare, Pink & Chelsea Handler - can you imagine the conversation!!! Brilliant!
What differentiates The Zen Den and inchargebox from your competitors?
The Zen Den is the only Balinese Pamper Party hut in Australia so the kids are getting a fabulous unique party experience while their parents relax in our garden or up in the parents lounge area .
inchargebox is a one of a kind nowhere else in the world, kids can expect some tangible boundaries and a good night's sleep and a lovely break from the addictive nature of tech!
Find out more about Hide and Seek Cafe...