Phillippa Lloyd, Fairy Fun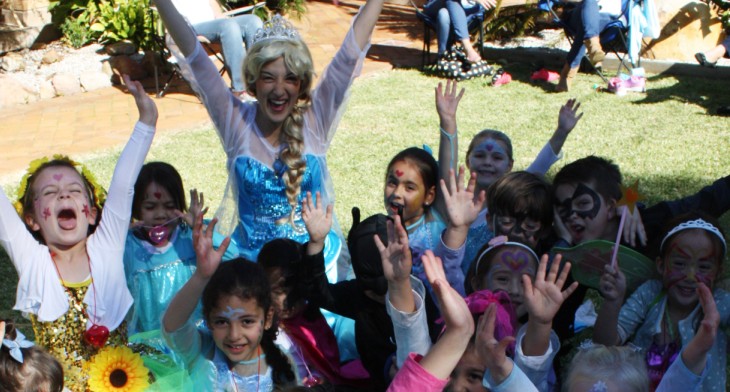 Fairy Fun, owned and managed by Phillippa Lloyd, is a Children's Entertainment venture providing entertainment for kids at their birthday parties as well as at Corporate Events, Christenings, Weddings and all other occasions!
We entertain children of all ages - eliminating your stress of hosting the party which enables you to enjoy it too! The day is filled with lots of musical games, face-painting, craft, magic, treasure hunt and balloon sculpting. All of the children receive prizes and to make this birthday child receives a SURPRISE birthday gift!
We understand the day is all about you and we will tailor the party to suit your needs. All games and activities are suited to both girls and boys ensuring a fun filled day for everyone!
What made you decide to start your own business?
I have been acting, singing and dancing since I was 8 years old. I absolutely LOVE performing and making people smile. I performed in many stage productions, variety shows and children's television pilots. My dream was to be a Wiggle or a member of Hi-5 (or similar) but I just never got there. Instead I created my own path! After training at NIDA and teaching singing, acting & dancing to children, I couldn't resist starting up Fairy Fun. Creating a fantasy world for children and watching their faces light up during my entertainment leaves me with no better feeling. We feed off each other's energy and have an absolute ball together. It is the most fulfilling job. I really love what I do and I feel so lucky to be able to embrace my passion every day J
What is the best thing about running your own business? And what is the worst thing?
The best thing would have to be being my own boss and working the hours that suit me. I am lucky enough to be able to run my business from home which means I don't have to put my children into childcare and can watch them grow through their most important years.
Unfortunately it does come with its bad points and that is it is so hard to sit down and get any work done!! I am always being interrupted and by the time night falls, I'm too exhausted to focus once they are in bed. I always find a way however things would get done much faster if I worked from an office instead of from home ;-)
What is required to succeed in your business?
Passion!!
You need to love what you do. People can always tell and it really shows in your work. In the kids industry patience is very important too. Luckily something I have a lot of!
What do you think customers value most?
Exceptional customer service. It's very rare these days which is really sad. Fast and informative responses to inquiries, being available at any time to calm nerves or any concerns they may be having about their event, to be open and accommodating to any requests they may have. Finally to be friendly and helpful. It makes a huge difference!!
What's the best feedback you've ever received?
Feedback and testimonials are so important to me as a lot of my business comes from word of mouth and referrals. The best feedback I've received is from Clients telling me the whole process from their initial inquiry to the end of the party was amazing. People commenting on how much energy I bring to their events and that I am the best children's entertainer they have ever seen. It's very uplifting.
Which community groups has Fairy Fun been involved with?
We get a lot of requests to assist with fundraising events. I try to support as many as possible and make it fair by assisting different fundraisers every year. Over the years we have been actively involved in supporting St Lucy's School who support children with disabilities, The Be Centre supporting children who are experiencing emotional, behavioural or psychological difficulties and LIFESTART who support children living with disability or developmental delay. We also provide vouchers to schools for their Fete or Trivia fundraising events.
What gets you out of bed in the morning?
My kids! I'm pretty lucky they sleep until 7.30am most mornings so I don't have to get up at the crack of dawn! However I do enjoy my sleep-ins whenever I get the chance ;-)
Complete this sentence, "I find that an effective way to beat procrastination is...".
...to make a list and reward yourself with a special treat (in my case a square or 2 of chocolate) for every job that gets crossed off!
If you could have one supernatural power, what would it be?
To control the weather! Everyone wants a beautiful day for their event which they have worked so hard towards and I always feel so bad when it turns out to be a treacherous day. I try sprinkling my magic fairy dust but I just haven't mastered that spell yet.
What three words accurately describe you?
Energetic, Fun and Reliable.
What did your high school report card say about you?
That I was always smiling and such a goodie two shoes in class ;-)
What are the top three things on your bucket list?
1. To stay in an overwater bungalow in Tahiti
2. A family holiday to Disneyland
3. Create my dream home
What differentiates your product/service from your competitors?
Our program is fast paced. We keep all of the games and activities short and varied which keeps the kids attention for the duration of the party. We don't put exclusions on our programs, so for example, if you book a 1 hour party and you want face-painting included, we'll accommodate your request and won't force you to book a 1.5 hour or 2 hour program to have your request included. We tailor the games and activities to suit what you want which makes everyone happy and every party different J
Why should customers choose Fairy Fun?
Because we are passionate about every party we do. We throw so much energy and dynamics into our party program that you will have everyone talking about your party for weeks, if not months! I guarantee exceptional customer service and will go out of my way to tailor your party entertainment to the way you want it. I am loyal and honest and genuinely want you to walk away from our Service feeling satisfied and us having exceeded your expectations.
Find out more about Fairy Fun...