Making New Friends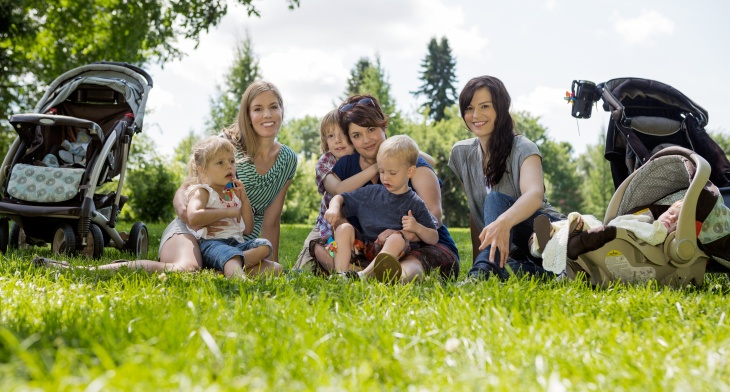 Making New Friends isn't Easy
Making new friends isn't something that has ever come easily to me. I get nervous and awkward and my words don't work and it all goes to hell really quickly. The flip side of that is that I rely heavily on those around me to bounce ideas off, for support and to vent to when life gets out of hand or I don't get my way.
My circle of friends generally encompasses a variety of 'groups', which have absolutely no correlation with those found in the 90's teen-pics I'm so fond of. I have Old School Friends, Work Friends, Uni Friends, Dog Friends and Those Who've Been Around So Long They Don't Fit Into A Group Friends. At any one time I know I can call on at least one of these lovely people when I need them.
There's a handful of people scattered across my various groups who have children, but advice and conversation about 'when X was a baby' tended to be a little vague and rosy tinted for what I thought I would need over the course of a pregnancy which felt like it was lasting forever and the early months of my new babies life.
I didn't actively go seeking new friends, there were no 'Apprehensive Mother-to-Be seeks same' ads placed or anything like that but I definitely made an effort to be open minded and to embrace the new people I met on my bumpy (pun definitely intended) journey.
Birth Club
When I first found out I was expecting I stumbled across BabyCenter and quickly downloaded the app so I could see "What Piece of Fruit is Baby Now?" while on the go. Aside from the fruit size comparisons, my next favourite feature is that of the online forums you can join, which are accessible through the app. I signed into my baby's birth month group, which they term 'Birth Club', and one for plus size mamas and regularly read through others if I was looking for specific information.
The Birth Club group had about 4000 excitedly expecting women from across Australia and New Zealand posting dozens of questions and experiences every day. Having access to so many women experiencing the same emotions, anxieties and bodily functions can be surprisingly reassuring but also terrifying. As with most online forums you get to recognise the usernames of frequent posters and can build up a bit of online rapport. You need to take some posts and advice with a grain of salt but at the times when you need another woman's advice quickly, the forums are indispensible.
Facebook Group
One savvy Sydney based expectant mum created an offshoot Facebook group and invited other Sydney mums to join via a forum post on BabyCenter. Just like that my most valuable support group was born. Over the course of our pregnancies we shared memes, favourite products and excitedly posted pictures of our nurseries and ultrasounds. In the early weeks after Cheeky Monkey was born these women were my lifeline to sanity.
There was always someone online, to chat to through those lonely 3am feeds and to provide reassurance when the world felt like it was falling down around me. We helped each other troubleshoot breastfeeding problems, swapped sleep strategies, and boasted unabashedly as our babies reached milestones. One year on and we've expanded as we've met other new mums who are looking for the same support network, but still remain a tight knit group. It's a little quieter now, but to be fair one year olds take a lot more attention than week-old babies!
Facebook is such a large part of our social media society now, there are an absolute plethora of parents groups and pages. Sometimes you need to be added if it's a private group so it pays to ask your friends who already have children if they know of any. I was added to a 'local' group of what is now 14,000 women and it has been eye-opening to say the least. Mothers and grandmothers of various ages with children of every age posting about absolutely everything- really, no topic seems to be off limits. The wonderful things about such a large network is that when issues arise the scope of comment and experiences is vast and there are plenty of professionals who can be tagged if people have had good experience with them previously.
Birthing Classes
Having found such great online support in the early weeks of my pregnancy I was on the look out for some 'real life' people to hang out with. After talking with my own mother and hearing of the wonderful friends she met in her antenatal classes I was beyond excited for our own classes to begin.
One of the best choices I made was to do weekly Birthing classes over the weekend workshops that were offered. I understand that not everybody has the time for weekly sessions but the spaced out gatherings provide more opportunity to build rapport and get to know people. I mentioned at one of our last sessions the Facebook group I was part of, and how important I believed peer support to be over the coming months. Three other mums took me up on the offer and whilst one dropped off the grid, the other two are among my closest mummy friends now and we've since been joined by another mother from the group.
Early Childhood Health Centre
In the first days after you arrive home with your little bundle, a nurse from the Early Childhood Health Centre comes to your home to assess you and your baby and give information about Mothers Group and information sessions (my public hospital referred me, if you birth at a private hospital you'll likely have to contact the centre yourself). Weekly group sessions at the ECHC started for me at two weeks post partum and while there is no obligation to attend it can be so helpful just to get out of the house, and meet other mums. Coffee or lunch afterwards is much more fun and conversation flows much easier away from the structured group sessions.
It's much easier to make friends in the early days, before strong group bonds form and while babies are still relatively easy to manage. I can't even imagine trying to make new friends now while chasing Cheeky Monkey across parks and play centres! It's worth making the effort and putting yourself out there, the returns on the friendships you create now will payoff for a good eighteen years.
Aimee Toby