Birth plan, schmirth plan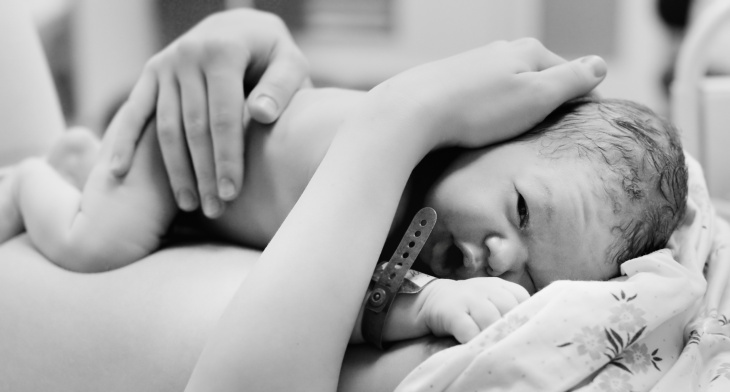 If you're anything like me, you will be ready for your baby long before he is ready to join you. Months before Cheeky Monkey arrived his nursery was set up and ready to go: all the tiny clothes were washed and folded away, the swing was set up, car seat installed and bags packed. I'm one of those people who decides how a particular day or event will unfold, and get my knickers well and truly bunched when things deviate from The Plan and really my pregnancy was no different.
I went to birthing classes with the other excited mum and dads-to-be and learned all about the pain relief I wouldn't need, and all the complications I wouldn't have. I went to my hypnobirthing classes, listened to medication tracks, put a garden chair in the shower so I could sit in the water when I was labouring at home and had my ever patient husband aware of everything I might possibly ask for.
I decided bub should arrive on the fifteenth of February because it was such a nicely balanced birthday, ahhhh 15/2/15. The days kept falling away, we pushed past Cheeky Monkey's due date and I did everything I had ever read of to coax him out, truly, everything! We ate chilli, drank raspberry leaf tea, I took evening primrose oil, bathed in clary sage oil, saw an acupuncturist, we babydanced, I swam and floated face down to tip him in my pelvis and I walked way more kilometres than my swollen puffy ankles were happy with.
The reality was that I went a full thirteen days over my due date. I had one failed induction and a second that promptly resulted in low foetal heart rate complicated by an epidural that became detached. Ultimately the decision was made that an emergency caesarean was the safest delivery option when the electrode measuring Cheeky Monkey's heart rate became detached from his scalp. In the operating room my uterine lining tore and there was enough blood loss that I needed multiple blood product replacement. I woke up from general anaesthesia to realise I had missed the first three hours of my babys' life.
In the antenatal classes we went to, we were encouraged to write our birth plans, to discuss them with our midwives and obstetricians and to carry them with us in case we went into labour while out and about. I never wrote a birth plan. I know myself and the frustration, disappointment and sense of failure I feel when I don't get my way and things don't go as I imagine them to. So my lack of planning was a very conscious decision and I think in so far as my ultimate acceptance of the cascade of interventions that we ultimately received, it truly made all the difference. To say I was heartbroken was an understatement, and it did take many weeks to be able to tell my birth story without sobbing but I think if I had held The Plan up on a pedestal it would have been much harder to me to move past it and accept the delivery as it was.
Absolutely, know what you want in an ideal delivery where you encounter no speedbumps, but mentally prepare yourself for the eventuality that things may not turn out as rosy as you hope. Talking the delivery through with your partner after your bub arrives is a useful debriefing tool, and in the eventuality that you do experience a delivery that became complicated or required interventions the midwives and medical staff should be available to talk it through with you and answer questions that come up, even weeks or months later. It's part of their job and can help you to understand decisions that were made, and if other alternatives were possible and can aid in your healing and the way you process the experience.
The doctor and midwife who were with me while I laboured and assisted with the delivery popped in twice to talk things through with my husband and I. They rationalised the decisions that were made, talked us through the surgery and answered all our questions. As a nurse I've never been on the receiving end of a patient debriefing but there are definitely benefits to talking it through with people who experienced it objectively.
The most essential tools in preparation for your birthing are knowledge and education, to be aware of what a normal delivery is but also to be prepared for the interventions you obviously want to avoid. Your partner needs to know what your preferences are, what interventions you are accepting of and be able to advocate for you when you're unable to vocalise what you need. Think about the kind of person you are and how you manage yourself when your experiences don't meet your expectations, maybe the best plan is no plan after all.
Aimee Toby