Living Through Our Children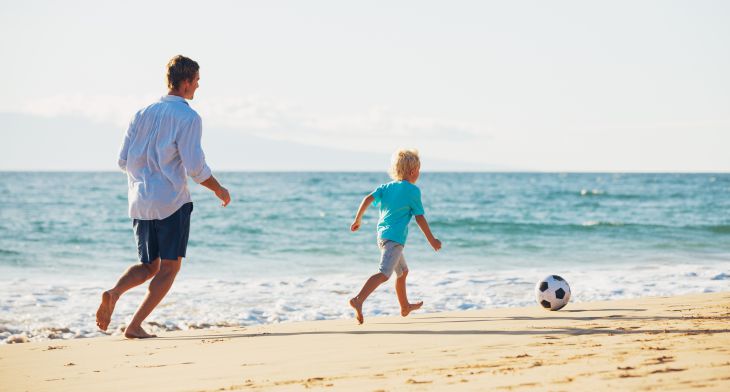 Recently, my daughter and I went to an information night about Year 10 subject selection. The principal addressed the room, explaining that whatever course they chose, they would be building learning skills that would be vital for Years 11 and 12. For this reason, she said, students should choose a subject they are truly interested in.
I looked at the booklet we'd been given that outlined all the possible subject choices. What would I choose, if I had my time again? The Visual Arts course sounded amazing, I thought. I remembered choosing art as an elective subject myself and losing myself in oil pastels, paint and sculpture. I was unceremoniously yanked from my memories when my daughter began whispering excitedly about the Aboriginal Studies course. History as a second choice, she said, or maybe Commerce?
For a minute, I wondered whose child this was. She didn't get her interested-in-Commerce brain from me, that was for sure! I wondered if I should try to encourage her towards Visual Art.
She's creative, I thought to myself, maybe she'd find that she had a flair for it?
We could go to galleries together, try out different mediums at home... The idea certainly wasn't without its appeal… For me, that is.
I was distracted by another mother whose question caught my attention. She asked the principal which subjects were best to choose now to help enter certain university courses later on. The principal explained that these subject choices didn't have any bearing on that and wouldn't affect subject choices for HSC courses. The main thing, she reiterated, was choosing a subject the student wanted to know more about. Something that would hold their interest while they honed their study and learning skills.
The mother nodded impatiently and said "Yes, that's great for some students, I am sure. But…well, we want her to go into law, you know? So, what should she choose aside from Legal Studies, do you think? Commerce?"
The other parents glanced at each other in confusion. Were we supposed to be thinking this way, as well? The principal, flummoxed by this mother's insistent line of questioning, suggested that they chat after the session. The daughter, meanwhile, slumped further down in her chair, staring at the carpet.
It was a difficult exchange to watch.
It did, however, jolt me out of the dangerous territory I'd entered in my mind. The one where I toyed with the idea of trying to get my daughter to pick a subject she wasn't interested in, so that I could relive the joys of high school art studies. I might have been able to convince her to choose the art course, but who would that benefit? Not her, that's for sure. She shouldn't be making choices like this just to indulge her mum's fond memories of mucking about with inks and paints.
In the end, I didn't even mention Visual Arts. Instead, my daughter and I talked about the kinds of things she might learn in Aboriginal Studies. We discussed whether History would be more interesting than Commerce. I asked what drew her to those subjects.
Afterwards, my thoughts kept returning to that other mum who had all those questions. Does her daughter want to be a lawyer? I don't know, but in the face of her mother's determination, the question seems almost irrelevant. I wondered what inspired her single-mindedness.
Some parents are desperate to give their children the opportunities they might not have had. They want to see their children excel in certain areas that matter to them. Or they want to see their child achieve something that they couldn't, for whatever reason.
It's not wrong to want to see your child do well or to give them opportunities. The danger, I think, comes from steering them away from their interests and ambitions and driving them toward yours. That seems like a sure-fire way to have a miserable child, struggling under the weight of parental expectations.
Our children's achievements are not ours to engineer and their interests are not ours to dictate. Whether it's school subjects, sports or something else, we must remember that children are not extensions of their parents. Their jobs isn't to fulfil our dreams; it's our job to help nurture theirs.
Amy Ahearn