Is your child a fussy eater?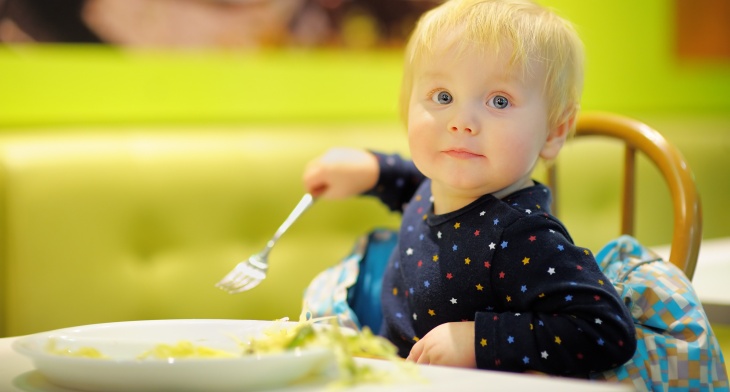 An introduction to Captain Fussy Pants and tips for managing fussy eating
Cheeky Monkey has an alter ego. He's been lurking around now for about eight months and I'm getting really jack of him. Captain Fussy Pants makes an appearance or two most days, usually at lunch or dinner times. Vegemite toast is his kryptonite, milk and fruit totally overpower him. His super skill is pitching tasty Mum-made healthy morsels down two feet to the gaping maw of Stealth Dog.
Captain Fussy Pants first appeared when we introduced Cheeky Monkey to solids. Those first weeks I lovingly steamed, baked, pureed and froze the recommended first foods. Every single one was greeted with retching, gagging and sometimes even vomiting. The only safe foods were store-bought pouches and fruit purees.
As the months progressed I spent so much time making what I thought were delicious healthy meals only to have them spat out or thrown across the room. I consulted with other parents and with professional colleagues, whose advice across the board was simply to relax and let him learn to enjoy food.
It really was the best advice, I know well enough now that if my baby is hungry, he will eat. Sure, it's not always what I think he should be eating (let's not discuss the three week period where 90% of what passed his lips was yoghurt or cheese) but he's still learning what he likes and it sometimes takes a few goes before he will happily dig in.
Vegetables are still our biggest hurdle even now. If he sees a hint of orange or green, it's game over. The only way I've been able to get them in is to dice small and add to casseroles, or to sneak them into his brekky smoothie but even then it can be very hit or miss. I always offer them in the vague hope that one day he'll surprise me but that hope is slowly fading.
You may also like: Eating Out with Kids
My experience is that Captain Fussy Pants is at his peak when I take control of the food, he is overwhelmed by something or is teething. It's very easy to get insanely frustrated; there have been so many occasions I've had to walk away for a minute to restrain myself from throwing food everywhere myself. It's taken some time to find a happy medium but there are a few things we have found that help.
Encourage independence
Cheeky Monkey is all about asserting his independence. From about eight months old he has largely fed himself for this exact reason. Occasionally we can sneak a few spoons in but the vast majority of the time he uses his fingers or more recently, cutlery and chooses what he wants.
Give them choice
Tasting plates are my favourite way of presenting food. I load up his plate with a variety of foods of differing flavours and textures then hold the plate out for him to select. If I give him the plate though, nine times out of ten it all goes on the floor, so tend to limit him to two pieces at a time.
Minimise distraction
It seems like common sense, but I so often have the TV or radio on for background noise and forget about it, I have to make sure I turn it off. Our biggest distraction is Stealth Dog. I worked out that a significant amount of our food goes on the floor to either feed him, or entice him over so now he goes outside or on the sofa for all mealtimes.
Make it social
I'm very lucky that our work hours allow at least one of us to sit down and eat with Cheeky Monkey for each meal, and it has made a world of difference. It's taken some getting used to, especially having dinner at 5:30pm but it has the added perk that once he goes to bed at 7pm we have the whole evening together. My experience has also been that he has much more interest in eating what we eat so is more open to trying new things when we eat with him.
Keep it interesting
Just like I get sick of eating the same things all the time, so does my Monkey. I deliberately keep an eye out for new flavours and textures. It can take a few tries of offering a new food but I find new flavours now are often embraced. Some of our recent successful taste sensations are Seafood Laksa, Inari, Pork Buns, Dumplings, Roti Bawang and Agedashi Tofu.
Does Captain Fussy Pants visit your house too? What are your tips for keeping him happy?
Aimee Toby