7 Tips for Flying with Kids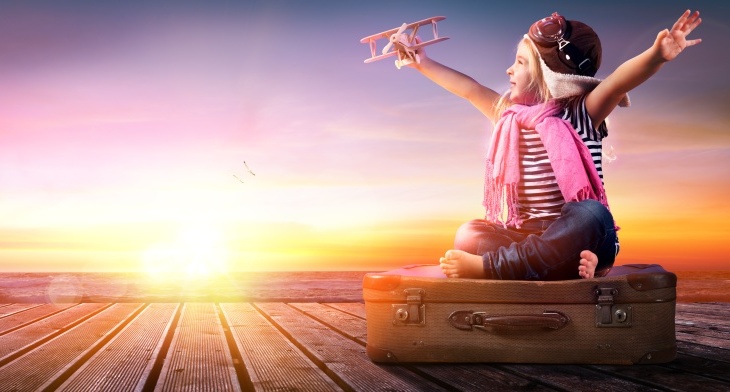 Flying with Babies and Toddlers – useful Tips and Advice
I remember the first time we flew long haul from Australia to the UK was when my daughter was 3 months old. We were terrified! Friends had warned us it would be a horrendous journey with a baby, that she would scream on take-off and landing and that we would get no sleep ourselves for the entire 24 hour flight. I was pretty terrified at the thought of it beforehand having been on so many flights pre-motherhood where I've heard babies scream the entire journey and seen parents pacing the aisles looking pale, wide-eyed and frazzled only 30 minutes into the journey.
I spent many weeks doing some research online and asking friends who had done the journey themselves what their tips were and which airlines they recommended and I will say, when we finally did the flight, it wasn't anything like as bad as I thought! Thankfully.
Now that said, flying with babies and toddlers might not be the most fun in the world, but I hope with these tips, your journey might be a bit easier for both your child and you:
1. Book seats with Bassinets
If you have a baby under a year old, try to book your plane seats as in advance as possible and ask for seats in the row with bassinets. There is no guarantee that you will get them on the day though so make sure to get to the airport to check in early and ask again for these seats. You also need to ask each time you change planes throughout the journey.
Bassinet seats are great because they tend to be right next to the toilets, for changing nappies, and they have a lot of extra legroom to store your nappy bag etc.
Just be aware that these seats have hard sides rather than the normal arm rests that can be pulled up and down as the tray table is stored there so they are not quite as comfortable as normal seats but hey, you're not really going to be 'comfortable' at all when flying with a baby over all.
2. Take a 'mini' changing bag
I recommend taking a plastic bag with you on board in your nappy bag so that when you go to change nappies in the teeny, tiny toilet, you can take only the essentials in with you - a nappy, packet of wipes, change mat etc rather than taking in the whole bulky bag.
You can hang this on the hook on the back of the toilet door and reach in for what you need easily. Also included a spare change of baby clothes in this bag as if your baby is anything like mine, they will likely have a poopslosion just before the plane lands!
3. Check your Airlines Policy for taking a pram/stroller
Some airlines will let you keep your stroller until the moment you board the plane, then have it waiting for you at the doors of the plane when you disembark at your final destination. Check with your airline to see what their policy is so that you can plan ahead.
I always take a sling or baby carrier as well as the stroller, just in case it isn't possible to always have the stroller with us. It makes carrying your many, MANY bags much easier with your baby strapped on to you first and if you're very lucky they might even have a snooze in it.
The sling is also handy for carrying the baby on the plane to stretch your legs. Of course do not ever fall asleep yourself with the baby in the sling - hand them over to your partner when it's your turn to get some shut eye or pop them in the bassinet.
4. Check what baby items you can Check In for free
With most airlines, you can check in 2 or 3 items for free such as a stroller, travel cot, car seat etc. We've always chosen the travel cot and stroller and I've cheekily used the travel cot case as extra baggage, stuffing as many toys and clothes in as possible!
5. Take sufficient Drinks and Snacks
Make sure to take more than enough drinks, snacks, food, wipes and nappies on board and factor in the potential to be delayed. We were delayed once on the way home but had already checked in our main bags with the spare nappies and wipes in. With it being the end of the holiday, we had no extra money either to buy more. Don't be afraid to ask the airline for help – our airline provided us with vouchers to by extra supplies in the pharmacy thankfully.
If you are taking a formula-fed baby, check with your airline and airport as to if you can take baby bottles of water on to the plane or if the bottles need to be empty.
6. Feed your baby on Take-off and Landing
If you can, try feed your baby (bottle or breastfeeding) on take-off and landing as them sucking will definitely help their little ears to equalise the pressure. I would add to this though not to start the feed too early - hold out for as long as you can (without them being uncomfortable of course) as the first time I did this, my baby had finished her breastfeed when we were still chugging down the runway!
7. Don't Worry
It might reassure you (or not) to know what your child will likely not be the only one on board the plane so even if your angel is sleeping like well, a baby, others likely will not. For the first and last time in your life, you will actually welcome the noise from other people's children to potentially drown out your own. You will never welcome them kicking the back of your chair though grr.
Have any of the tips above worked for you?
Do you have any other tips for travelling by plane with a baby or a toddler?
Mim Jenkinson