How to Set Up Your Baby's Nursery - a Guide to Newborn Essentials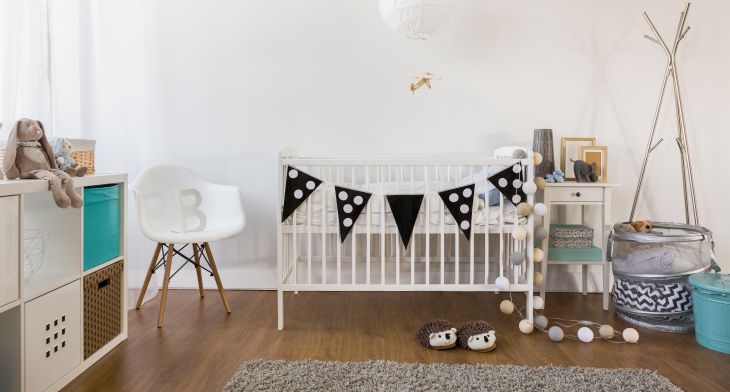 It's time to go shopping and set up your baby's nursery. This is equally nerve wracking as it is exciting, particularly for first time parents.
You work hard for your money and don't want to waste it on baby products you will never use. But what if you miss a crucial item that could have been the difference between a stress free day and a sleepless night? Here are just a few newborn essentials that you will want in your nursery.
Nursery Essentials for Newborns
There are so many baby products available and this can make it difficult to determine which brands and variants are best. Ensure you research and read lots of reviews prior to making your final selections. This guide will help to determine what items you will find useful.
Cot / Bassinet – I'm sure you have already thought about sleeping arrangements but have you considered whether you plan on using a cot from the moment bub is home or if you will utilise a bassinet? On one hand, a bassinet does mean you will have to buy an extra item however it also gives you the convenience of being able to relocate it with ease.
Bedding – naturally with a cot comes the need for fitted sheets and blankets or sleeping bags. There are so many options available that vary radically in price; opt for ones that are soft on bubs skin and are optimised for the current temperatures.
Change Table – this item will save your back! Newborns require constant nappy changes and having the option to change your little ones nappy at a level height, will prevent you spending hours bending over on the floor. A change table will also give you a place to store nappies, baby wipes and lotions.
Baby Monitor – depending on the layout of your home, you may find comfort in having a baby monitor. A video baby monitor gives you that extra peace of mind because you can check in and see that your baby is sleeping safely without the risk of waking them.
You may also like: Other articles by Kell
Nursing Chair – while a rocking chair or nursing chair is not for everyone, it can be a great option for parents with a restless baby that doesn't want to sleep at night. The rocking motion helps to soothe unhappy babies and nursing chairs give both mums and dads a comfortable place to feed.
Thermometer – a good quality digital thermometer is a must have item for anyone with children. There are many great options available that not only allow you to take your baby's temperature, it also monitors the temperature of the room.
Nightlight – this will allow you to check in on bub without having to switch bright lights on that may wake your precious bundle. There are plenty of choices – touch lamps, motion sensor lights, battery operated, etc.
Every family is different which in turn means their needs will vary. But there is one thing all parents have in common; the desire for convenience and minimising stress at this joyous time. Start off on the right foot by having your nappy bag fully stocked and all your nursery essentials ready for your baby.
What are your must have nursery items?
Kell Kelly